In the enchanting embrace of Tunisia's historical charm, set against the picturesque backdrop of the Bab el Bhar Port, the finale of The Dina Preston Band's 28th tour unfolded. Beyond mere performances, this musical finale showcased the profound impact of technology in uniting cultures and fostering global unity—a narrative that resonates with the essence of your events.
Tunisia and U.S. Culture: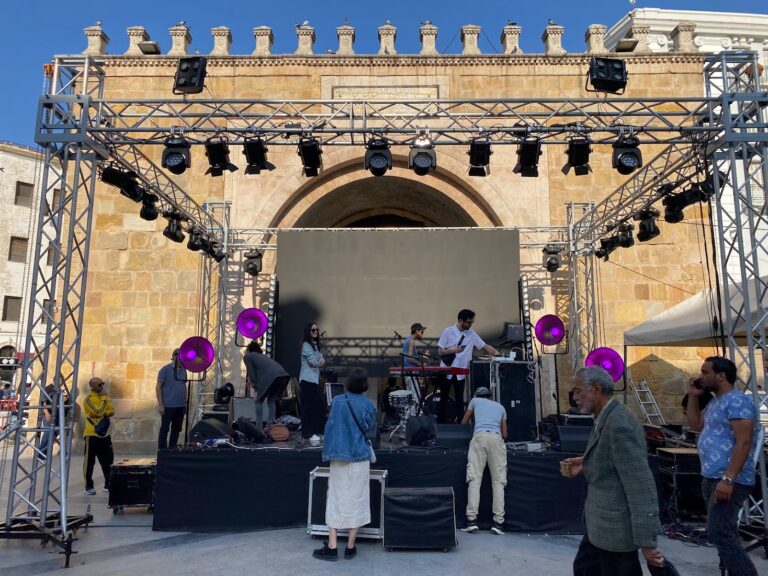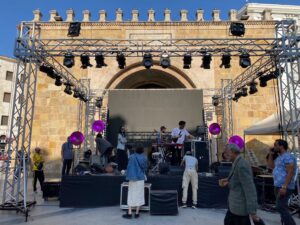 As our convoy moved across the diverse landscapes of Tunisia, we marveled at the rich tapestry woven by Phoenicians, Romans, Arabs, French, and the Ottoman Empire. This cultural kaleidoscope, juxtaposed with the multicultural identity of the United States, became the canvas for our exploration of nuanced languages, traditions, and cultural intricacies.
Digital Gateway:
Our dedicated landing page emerged as the nexus of our global adventure, fueled by both personal storytelling and Artificial Intelligence. It transcended the realm of static information, breathing vitality into our narrative through effective SEO, and hashtags. QR code stickers became symbolic bridges, inviting audiences to embark on a journey seamlessly weaving through physical and digital realms.
Collaboration and Engagement:
In collaboration with Tunisia 88 through our digital toolbox, we encountered the unique challenge of engaging with online music creators. Transforming virtual workshops into interactive quests through gamification laid the groundwork for an exciting exchange of ideas. The endorsement to tour on the ground by the U.S. Tunisia Embassy underscored the transformative power of technology in fostering international collaboration.
Anchor Song – "When the World Calls Your Name":
Our anchor song wasn't just a composition; it was a musical voyage bridging cultural differences. In Gafsa, a power outage transformed into an unplanned, unifying moment as the audience joined us in an acapella chorus of our anchor song, "When the World Calls Your Name." This showcased the profound impact of music and technology in connecting hearts and minds across borders.
Omni Marketing:
Our digital journey was a dynamic exchange where data flowed like a river from various online sources to create a unified experience for all users.  Analytics became our guiding compass, offering insights into the resonance of our music worldwide. Google Ads and targeted marketing campaigns transformed advertising into a tool that allowed us to optimize our user's experience.
Social Media:
From building anticipation through teasers and tour announcements to engaging fans with behind-the-scenes content, our online presence celebrates the rich cultures encountered. Even after the tour, we continued fostering a sense of belonging within our global community through the power of social media.
Digital Tools:
Our digital toolbox, a treasure trove of collaborative tools and apps, facilitated seamless collaboration with Tunisian musicians. Digital distribution platforms and music streaming algorithms transcended borders, connecting us with diverse audiences worldwide. The power of social media networking turned our music into a living, breathing entity that resonated beyond the stage.
Technology Challenges:
Respecting privacy, avoiding cultural appropriation, and ensuring digital literacy were important issues to consider and navigate. Permission for online content, respect for diverse musical elements, and adapting to the digital landscape needs of our audience were integral to overcoming these challenges.
Summary:
Our 28th tour stands as a testament to the transformative power of technology in fostering cultural exchange. From a historical port in Tunisia to global stages, technology became our ally in creating a harmonious global symphony. It wasn't just about efficiency; it was about inclusivity, unity, and the celebration of diversity. The journey of The Dina Preston Band stands as a testament to the transformative influence of technology in transcending cultural barriers. It highlights the band's commitment to utilizing technology ethically and inclusively, resulting in the creation of a harmonious global experience.
#dinaprestonband #wevebeeneverywhere #renaissancerecordsusa #TechHarmonyGlobalSuccess #deospeaks
Learn More from #DEOSpeaks
Check out their music here: https://dinaprestonband.com/
Visit their website here: https://deospeaks.com/
Subscribe to Dina Preston Band on YouTube
Connect with Don and Dina and subscribe on LinkedIn, Facebook,  Twitter, and Instagram